Jun 10 2006 Sat
5:27 pm PHT
Well, sorry for the Google Earth-related posts but I'm just excited. Hehehe. Anyway, I explored the Philippines on Google Earth and compiled all the areas with high-resolution images into the image below. The red spots (they're not exact) mark those areas.
As you can see, many major cities aside from Metro Manila are now covered: Cebu, Bacolod, Tacloban, Naga, Legazpi, Laoag, Dagupan, Lingayen, Calbayog, Iligan, Zamboanga, Olongapo, Puerto Princesa, Marawi, Danao, Antipolo, etc. A major omission is the island of Panay; there's no high-resolution images there yet, to the consternation of those from Iloilo.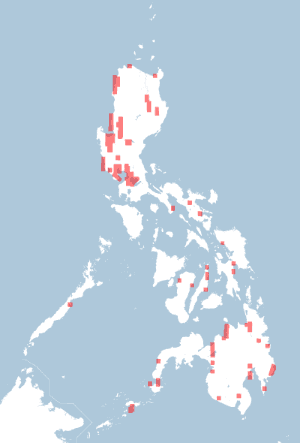 The last major update of satellite imagery was back in April when the cities of Davao, Cotabato, Cagayan de Oro, Bislig, and Butuan got high-resolution satellite photos. Before that, an update In June 2005 had northern Cavite, south central Bulacan, and northern Pampanga in hi-res.