Sep 27 2009 Sun
3:01 am PHT
First of all, please go to this blog post by Manolo Quezon to see the destruction of Tropical Storm Ondoy and to learn how to help those in need.
Our house and immediate vicinity was pretty much spared from all the flooding that beset the metropolis and the surrounding areas. Aside from the fact that our terrace completely flooded due to inadequate drainage and which almost brought some rainwater into the house, it was a pretty much run-of-the-mill stormy day for us in our household. So I was pretty much oblivious to the widespread calamity and record-breaking rainfall. It was only a few hours ago when I decided to browse around that I freaked out with what I saw.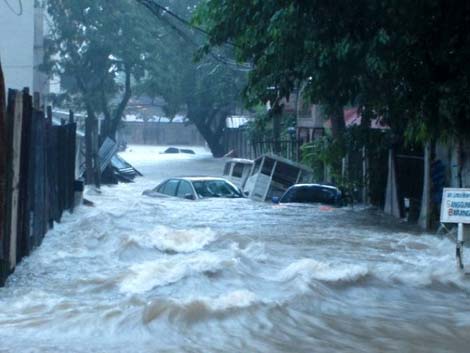 The picture above of Park 9 alley in Loyola Heights/Katipunan (and this YouTube video) hit a particular nerve in me. You see, I used to live along that street back in college and it was there that I had my worst flooding experience. Park 9 alley is right beside the Diliman Creek and it notoriously floods during heavy rain. I and my housemates have seen the street flood but it was generally pretty shallow, only up to the knees in the middle of the lowest part of the street. Well, that was until one particular storm.
I can't remember which storm it was or what year it happened but I woke up one Saturday morning and was surprised to find that the whole floor of the apartment unit was wet though there was no water anymore (it had subsided by then). I checked and was thankful that the water apparently only reached around the ankles. The main casualty inside the apartment were the tons of soggy school papers that were stacked on the floor.
Unfortunately, I was left alone in the apartment since my three housemates (batchmates from high school) went home for the weekend (I stayed because I had to do something in UP, though it was canceled). So I was left with the unenviable task of cleaning up the apartment. I called my housemates and appealed them to come to help with the cleaning but they couldn't come. Thankfully, my next door neighbors (and incidentally, schoolmates as well, though from a different batch) were there and they helped me clean up (after they tidied up theirs). They had this nifty sponge mop that I was able to borrow.
I thought that was the worst of it until I checked the Tamaraw FX which I had with me and was parked along the street. Well, it turned out that the flood inundated the vehicle and its engine wouldn't start. I had to resort to calling my dad. He came later that night we towed the Tamaraw using our other vehicle all the way home to Las Piñas.
Seeing that photo above brought back those memories. I have never seen the Katipunan end of Park 9 get flooded and so seeing the photo above with raging flood waters really freaked me out. I'm guessing that the flood water would have reached chest-high (!!!) inside my old apartment. I have also seen some parts of Katipunan under water (notably the low area near National Bookstore), but I wasn't prepared to see portions of the avenue near Ateneo Gate 3 and Miriam looking like a river as seen from various photos online. Aside from the Katipunan area, the photos of the submerged Makati pedestrian underpass and flooded Bonifacio Global City were also pretty scary.
People are asking which is worse, Typhoon Milenyo (which happened almost exactly three years ago) or Tropical Storm Ondoy? Well, one brought too much wind while the other too much rain. Personally, Milenyo was much worse for me because we lost electricity and running water. I actually went to the gym just so that I could take a bath!