Aug 18 2009 Tue
11:49 pm PHT
One of my managers at work knows that I love maps (she actually gave me four NAMRIA topomaps for Christmas) and so she told me a few months ago about this thousand-plus-peso atlas of Metro Manila that she saw at Fully Booked. Being the map geek that I am, I was of course quite curious. I was finally able to locate this atlas last month at Fully Booked Bonifacio High Street and discovered that it's the first edition of the Manila Street Atlas by Periplus (see the Amazon listing).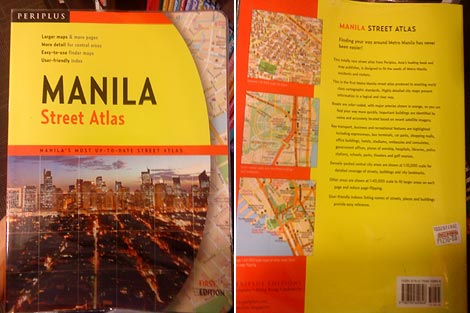 My first impression of the book was that its publishing quality is high. Its cover had this nice laminated finish and the corners opposite the binding were rounded, which reduces the wear and tear that comes with handling such kinds of books. The front cover proudly declares, "Manila's Most Up-to-date Street Atlas" (note that it's published in 2009) while the blurb at the back states, "This is the first Metro Manila street atlas produced to exacting world class cartographic standards." And with a 1,250-peso price tag, the atlas certainly raised my expectations.
But once I looked inside, I became aghast at how sloppy the mapping data quality is. For such an expensive map that claims to be the "most up-to-date", it is crap. I initially planned to buy it even if I already have several Metro Manila atlases, but the steep price is too much. (I'd probably buy it if it were maybe 500 pesos just to satisfy my comparative cartography impulses, but for 1,250 pesos? Heck no!) Periplus's atlas majorly ticked off one of my biggest pet peeves.
Shown below are just three glaring defects that I've found by just browsing the atlas in under five minutes. Take note that these are not minor errors like street name typos inside some random subdivision but these are actual defects that will negatively impact how you navigate and find places!

To the left is their depiction of Bonifacio Global City in Taguig. If you're an avid reader of my blog, then you should already know that this business district is my first and main gauge at how accurate and up-to-date any map of Metro Manila is. Sadly, Periplus gets an F from me. Their road network shows Global City as it looked like in 2006, not 2009.
The middle segment shows the SM Mall of Asia area. Again Periplus gets failing marks from me because of the lack of streets, the lack of San Miguel by the Bay, and other problems (like the One e-Com Center being located where the North Wing is). So, their Manila street atlas is not looking up-to-date anymore, eh?
Finally, to the right is the intersection of Julia Vargas Avenue and C-5 Road. They've depicted a flyover where there's none at all. (I've heard of plans to put up flyovers at this intersection and at the Lanuza–C-5 intersection but these are opposed by the Valle Verde residents.) If you'll follow this map expecting to get to C-5 northbound from Julia Vargas, expect a shock since you actually need to turn south at C-5 then take the U-turn slot about 100 meters away.
If I can say something nice about the Periplus atlas (aside from the really good publishing quality) then I'd have to commend how they covered much more of the Greater Manila Area (at least in their 1:40000 scale maps) than other Metro Manila atlases. Most of urban Rizal province is covered as well as northern Cavite (like Cavite City) and southern Bulacan.
I also approve of many of their stylistic cartographic choices except I'm perplexed at how they have drawn buildings and houses in many areas arbitrarily and with no visible rhyme nor reason. It gives the misleading impression that their atlas is more detailed or contains more information than it actually has.
My verdict? Don't buy this. I highly recommend you get the Accu-map Citiatlas instead. That one (the A2 pocket version) costs only 330 pesos but it's much, much more accurate and up-to-date than Periplus' sorry excuse for an atlas. I actually bought the 2009 edition of the CitiAtlas that night in Fully Booked that I saw the Periplus atlas. I'll give a review of it in the near future.

Update: As of October 2011, the atlas is now selling for 775 pesos, which actually makes me reconsider not buying it. I do love the cartographic style, but the original 1250-peso price was too steep.
Update 2: I finally bought this atlas in December 2011. The listed price was still 775 pesos but I was pleasantly surprised to discover that the price in the database was around 500-plus-pesos. And I got a further discount which means I got this for only 465 pesos. Not bad.