May 01 2006 Mon
11:27 pm PHT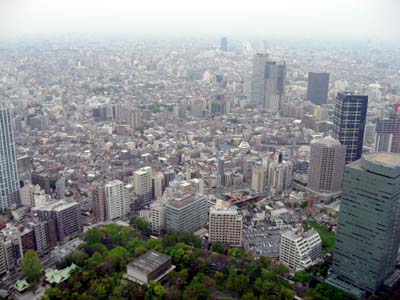 If you have noticed, I tend to write about my experiences on this blog quite some time after the mentioned event. Well, I won't disappoint you loyal readers (all 6 of you) and so only now will I talk about my experiences in Japan last month. Hehehe.
When an officemate asked me what my impression of Japan has been so far, the number one word I can think of is "efficient." From their mass transportation system down to the way one orders food in restaurants, their efficient use of technology drives their way of life.
Another officemate's impression of Japan is that they're disciplined. I definitely beg to disagree. One only needs to look at the litter lining the streets to disprove that impression. There's a pile of trash underneath the Hirama bridge near our office and paper cups and soda cans stand at attention along the subway entrances in Shibuya. (Granted, Japan is cleaner than the Philippines, but it wasn't as clean as I imagined it was.) In addition, Japanese do tend to jaywalk, and even in intersections, they cross the street when the pedestrian light is red. Bikers, in particular, are notorious for beating the red lights.
Nevertheless, Japan is a great society. You'll feel safe walking the streets at night since crime rates in Japan is very low. (Crimes tend to be high-level and organized; you very, very rarely hear of pickpockets, snatchers, kidnappers, shoplifters, armed robbery, and hold-ups.) And the people are extremely courteous; customer service at commercial establishments is tops.
If you'll ask me if Japan is a great place to live, I'd personally answer that it is, if you don't mind the language barrier and the extreme climate. Unfortunately, those two factors are important to me, so I would say that while I liked and enjoyed my stay in Japan, I wouldn't want to live there.
The thumbnails accompanying this post are links to larger versions. Mouse over the thumbnails to read the caption.
Kawasaki City
When I was in Japan, I spent most of my time in Kawasaki City. Kawasaki is located just across the Tama River from Metro Tokyo in the Kanagawa Prefecture. The city center, where I stayed, is at a level of development between Ortigas Center and Alabang, but Kawasaki's prominence and identity is obscured by the fact that it lies sandwiched between Tokyo and the large city of Yokohama to the south.
But then, Kawasaki is quite a vibrant city and it's very, very refreshing living close to most things. Kawasaki has malls galore and a lot of 24-hour convenience stores. Yodabashi and Sakuraya, two popular electronics retail chains, have branches here. Practically every block has a restaurant, and I think there are about a hundred Pachinko and slot machine arcades in the area. Plus, the city center is served by 3 Japan Railway (JR) lines and one Keihinkyuko line.
The city center is also the location of many offices and the train stations are full of people during rush hours. (It's a good thing that we live there and work elsewhere, because we avoid the packed trains during rush hours.)
On the seedy side, Kawasaki is also known for its numerous girlie bars, or what they prefer to call "gentlemen's club." Walking along the side streets, you can spot many men in suit and tie waiting to invite gentlemen into their bars and clubs. Well, I've never been tempted to try going into one; they're expensive!

Kawasaki is also home to a significant Filipino population. I've already spotted three Filipino restaurants, one closed pub, and even a girlie bar featuring Filipino women. You can especially see a lot of Filipinos during the English Sunday Mass at the local Catholic Church.
La Cittadella
Kawasaki has a lot of malls. Among them are the Kawasaki BE that houses the JR train station, the Dice building where Sakuraya is located, the More's building, and the IOIO building where Yodabashi can be found. One interesting mall is vast underground mall of Azalea, which contains a whole street of restaurants and the rest of the space mostly devoted to boutique shops.
But the best of them would have to be the La Cittadella. I think only a few people will contest that assertion. This elegant mall with its European-inspired architecture is definitely the place to hang out in Kawasaki. It beats the hell out of Eastwood Citywalk in looks and I would say that Ayala Greenbelt is only better than La Cittadella just because Greenbelt is larger and thus has many more shops and restaurants.
Travelogue to be continued…