Nov 06 2007 Tue
12:22 am PHT
Funnily, I don't recall ever going for an out-of-town trip this year. Well, my group in the office had a team-building activity about a month ago in Laguna, but I don't consider that as a "real" trip. So when a good friend of mine invited me to go to Antipolo just for the heck of it, I took up the offer and drove there the other Saturday.
It's just too bad that the air was a little too smoggy such that the view of Metro Manila was less than breathtaking. Well, the best times to go to Sumulong Highway and look at the view is right after a typhoon or storm, or when the wind is quite strong, which it wasn't that night.
Oh well. I did enjoy the trip, the view, and the stories shared over coffee. I needed the smiles and the laughter.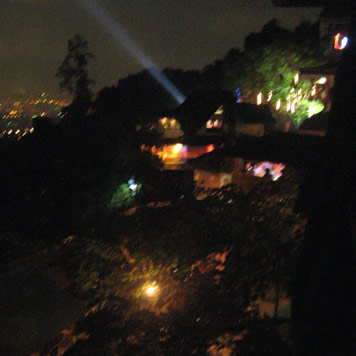 Then again, I'm still looking for that peace.