Jun 13 2009 Sat
1:45 pm PHT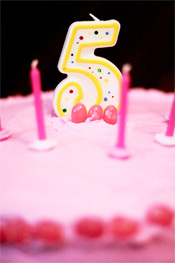 It's been exactly five years since I wrote the first post here in vaes9. This also means that I've been a blogger for five years now. I've written anniversary posts for the first year and the second but I neglected to write posts for the third- and fourth-year anniversaries since the occasion was eclipsed by Lakbayan, which I launched on June 12, 2007. (That means that Lakbayan is now two years old!) So let me indulge myself as I write a fifth-year-anniversary post to celebrate this milestone.
These past five years has been pretty great for me as a blogger. I've started my blog back in 2004 to join the bandwagon, but it apparently seems that I was one of the early bloggers here in the Philippines back during the time when blogging events (and controversies) were unheard of. The Philippine blogosphere has become pretty big and mainstream since then and I've seen how it grew from simple personal journals and diaries in LiveJournal and Blogger into this industry it is now. (Whether that is a good or a bad thing is a discussion for another post.)
I attended my first ever blog event in September 2006 called the Philippine BlogCon, and there I met people, like Markku, who would become among the best online friends I have up till now. The next event I attended, the Blog Parteeh '07, would prove even better since I met lots more friends, like Benj, Juned, Jonas, Marcelle, Mae, Rico, and Jeff among many others.
Blogging was originally just to be a minor hobby of mine. But after seeing all the possibilities and opportunities, blogging has become a real passion and I've even started branching out, launching my second blog, Tanawing Pinoy, on February 23, 2006, and rebranding it as Vista Pinas in 2007. That blog had actually become my most popular and successful blog in terms of traffic, subscribers, and revenue.
Speaking of revenue, blogging has brought me a pretty good source of side income. While the earnings are not much compared to more successful probloggers out there, it's still good especially since it is mostly passive income. I actually am in the process of expanding my "online empire" to other areas besides blogging. Diversity is the key and while other people create their own personal blog networks (like having a personal, a travel, a food, and a tech blog), my skill set is such that I can create more than just blogs.

Besides the income, the recognition is also great. I won the Best Single Technology Blog Post Award in last year's Philippine Blog Awards for my "The Making of Lakbayan (Part 2)" article. I don't expect to win more awards since there are plenty of bloggers who deserve the recognition more. Getting one official award, with a funky-looking trophy to boot, is good enough for me. But I won't stop you from nominating me in whatever award you think I deserve. Hehehe.
Here's to five more years!
Cake photo (CC-licensed) by Daniel Catt.