Sep 21 2008 Sun
7:50 pm PHT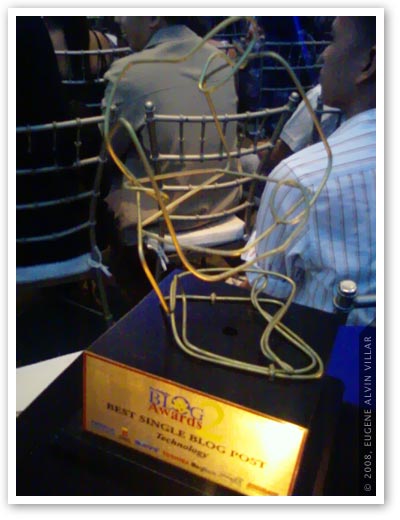 Whee! I won the Best Single Blog Post Award for the Technology Category in the 2008 Philippine Blog Awards. The post that won is the nosebleed-inducing "The Making of Lakbayan (Part 2)".

Well, it's not a complete achievement since that particular post was a self-nomination (I figured correctly that it's harder to win in the Best Blog Division and that people will overlook the Best Single Blog Post Division so I banked my chances there
). But, I'm still chuffed to have won and I also have to acknowledge Benj for actually nominating the related post, "Lakbayan", for the same category. His nomination actually gave me the idea to nominate the more technical "Making of" post. So thanks, Benj!
Pictures and another blog post to follow.