Apr 25 2008 Fri
11:45 pm PHT
You should know by now that tomorrow, April 26, there will be two back-to-back bloggers events. The first is the iBlog4: The 4th Philippine Blogging Summit at Malcolm Hall in U.P. Diliman, and the second is the 88DB.com Bloggers' Night. These blogger events are very good ways of meeting other bloggers that you have only conversed with online as well as an excellent venue for networking and gaining more friends and acquaintances.
In these events, there are plenty of ways to promote your blog. From the common T-shirt, like Benj's, to the creative jester's hat worn by Pierre (Picture by Sasha). But if you want to be downright conventional, you can go with business cards.
I've managed to build up a modest collection of business cards from the blogging events I've attended, so let me give these "carded" people some publicity!
Here's Andrian's Asia Pay business card which I got from last December's Red Box Blogger's Christmas Party. It's simple and business like (though the orange is a bit harsh).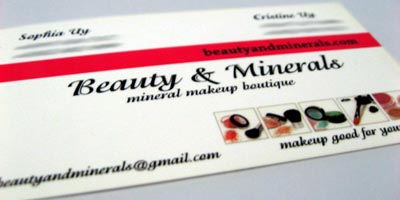 Fellow BBN blogger Sophie with her Beauty & Minerals card. Very sassy.

Noemi's card definitely reflects her personality.
Renzie's make-money-online card, which I received during last year's Blogger Mixer event, could definitely use some sprucing up.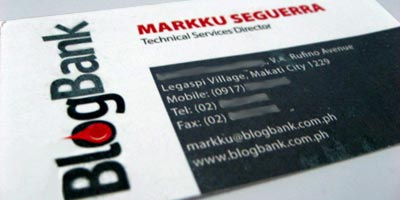 I like how Markku Seguerra's BlogBank card looks (which he gave away during the BlogBank launch). The only problem is the ink is a bit runny.
The Digital Filipino card of Janette is one of the few portrait cards in my collection. And the bright colors are attention-grabbing too.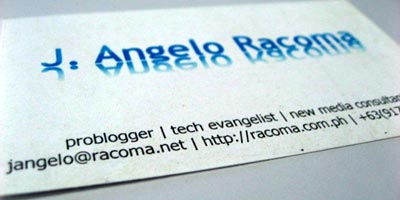 J. Angelo's card, which I got during the Philippine BlogCon 2006 (the first blogging event I ever went to), is so Web 2.0 with its shiny-floor-reflection effect. But I like Abe's Web 2.0 card better.
Juned's Baratillo and Piscinarii card is simple and modernist in its design.
What better way to show your drawing skills than by placing one of your creations on your business card, right? Card by Karlo.
It's not obvious from the photo but Shai's b5media business card is the only non-rectangular card of the bunch—the corners are rounded or tapered. I also really like the graphic design on the card.
Aside from the BlogBank card above, Markku also has his personal card. This is the first photographic card I've ever received and it really suits his photography hobby. The cards come with different artistic pictures and I chose this sunset shot. (I love sunset pictures!)
Not to be outdone, Juned also made his own photographic cards (with various photos) several months later. Amazingly, I also picked another sunset photograph forgetting that I already had a sunset card from Markku. (I must really love sunset photos. Hehehe.)
During the Boracay weekend, Melo gave me this intriguing card holder thingamajig containing his Lakbay Pilipinas card and I absolutely love it! The card itself is pretty decent but the card holder takes the cake. Thus I give Melo the Best Business Card as of April 2008 Award.
Ironically, I still have no business cards of my own. Hehehe. See you guys tomorrow, and who knows, you might win the next Best Business Card Award. Just give me your cards, aight?