Sep 17 2007 Mon
7:30 pm PHT
After all of those techie posts, let's go to the lighter side and make a couple of belated movie reactions to the last two animated films I've seen: Ratatouille, which is about a rat who wants to become a chef, and The Simpsons Movie, the much-awaited movie version of the popular animated TV series.
Ratatouille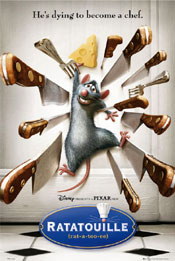 My goodness, Pixar just keeps on creating magic, the same way parent company Disney dominated the animated films in the 90s. The last Pixar film I saw was The Incredibles, and it's much more incredible that Pixar wowed me even more with Ratatouille. No wonder it got such extremely high scores in Rotten Tomatoes and Metacritic, two websites that aggregate movie reviews.
Ratatouille has a really excellent story, delicious animation (especially of the food), and very believable characters, notably Rémy, our wannabe chef rodent, Linguini, the puppet chef of Rémy (hmmm, isn't Linguini an Italian name, yet the movie is set in France?), and Colette, the no-nonsense resident kitchen babe. Props also go out to the food critic Ego, voiced by acclaimed actor Peter O'Toole, for giving us a wonderfully evil yet well-rounded counter-character.
The movie is funny yet sensible and poignant yet light. One of the best scenes of the movie has to be when Ego samples Rémy's masterpiece dish, the ratatouille, a peasant's dish. That scene really drove me to really greatly appreciate the storytelling capabilities of Pixar.
Have you seen the movie in the theater? You should've then seen the animated short Lifted that preceeded the feature. Lifted was so, so, so hilarious, everyone in the theater was in stitches.
The Simpsons Movie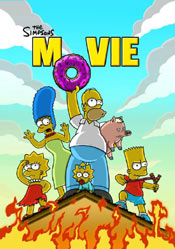 If you've grown up enjoying The Simpsons, then you shouldn't miss the movie version, many years in the making. Nothing describes the movie best than irreverently funny. It pokes fun yet praises environmentalism, Christian faith, family values, and prudishness. And while many may be offended by the satirical elements of the film, it should be noted that the film doesn't take itself seriously at all (like President The Terminator—er, Schwarzenegger—who in reality cannot be Commander-in-Chief, not being a natural-born American citizen). The movie is best taken for its entertainment value.
As usual, Homer never grows up. Much of the films troubles can be solely traced to Homer, yet predictably, Homer redeems himself by spectacularly saving the day (much like many episodes of the TV series). Anyway, choice enjoyable elements in the film were the untimely demise of Green Day very early in the film (love their songs), Homer's "Spider-pig" song (hahahaha!), President The Terminator—er, Schwarzenegger—acting very much in character, Bart executing Homer's dare (lots of people squealed during a crucial scene), and the epic destruction of Springfield.