May 18 2008 Sun
1:48 pm PHT
One of the photo-bloggers that I admire most is Ferdz Decena. He has a travel blog over at Ironwulf.net Ver 6: En Route where he shares photos and his observations as he travels in the Philippines and abroad. While I have a pseudo-travel blog in Vista Pinas, Ferdz has done the actual traveling to many of the places I've featured in my blog. The photos he takes are excellent and I am a first-hand witness to his dedication to his craft when he and I were together in the January Boracay weekend.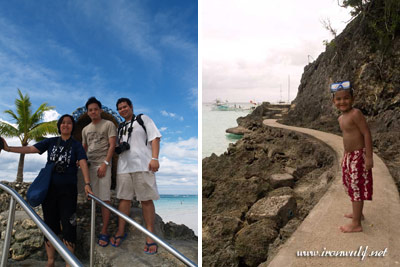 Shown above to the left is a photo Ferdz took of Karla, me, and Enrico on top of Willy's Rock in Boracay. At first glance, it doesn't look anything out of the ordinary, but the framing here is subtly composed to take in as much of the scene as possible from a low angle. Ferdz actually took this photo while perched precariously on a rock ledge. A wrong step and Ferdz would've met his doom (or at least some serious injury).
Ferdz' second picture to the right has a great composition and is a good example of his people skills. I was with Ferdz when he took this picture and he simply asked this kid to pose for a picture and the kid gamely did with a smile! I'm not an outgoing person and the thought of me asking a random stranger for his or her picture is something that wouldn't cross my mind. (Then again, I'd be embarrassed to ask to take a stranger's picture with my point-and-shoot camera as opposed to an SLR like the one Ferdz carries. Hehehe.

)
So it was a great pleasure to attend the opening night of Ferdz' one-man exhibit Living by Water last Monday, March 12. The exhibit runs until May 27th and you can visit it at the Filipinas Heritage Library at Ayala Triangle, Makati City. It's a pretty simple exhibit by most people's standards but it is definitely a labor of love. The monochrome shots taken in various places in the Philippines like Lake Sebu in South Cotabato, Rio Hondo in Zamboanga City, and Itbayat in Batanes are very excellently taken.
If you haven't seen Ferdz' exhibit yet, I suggest you head over to Makati before the 27th and appreciate well-done travel photography. The photo above is a photo of the exhibit viewers seen through a reflection of one of the photograph's glass frame. More pictures from the exhibit's opening night below. Bloggers seen at the exhibit are Juned, AJ, Markku (and his brother), Nina (who I met for the first time there, but I've commented on her blog before) and her friend Brian.