Mar 31 2009 Tue
11:16 pm PHT
I've mentioned quite a few times here and elsewhere that I consider Bonifacio Global City as the place in Metro Manila that is undergoing the most drastic development (like roads come and go and there's always a building under construction somewhere). Because of that, I think that how various maps depict this district is one of the best indicators in gauging how updated any such map of Metro Manila is. For instance, I analyzed the 2007 edition of the Citiatlas Metro Manila atlas by examining its coverage of Bonifacio Global City.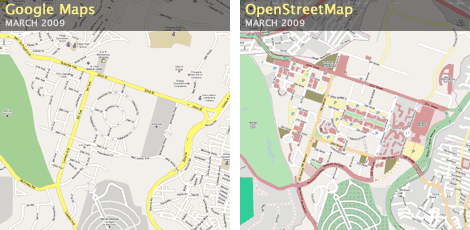 I've already shown in my immediately previous post how Google Maps' and OpenStreetMap's rendition of Bonifacio Global City looks like. OpenStreetMap's is pretty much updated but it is still very lacking in the northern sector (north of 32nd Street) and some minor roads still under construction just north of Bonifacio High Street. Google Maps, on the other hand, is outdated by three years and this is because Google relies too much on their satellite imagery.
Shown above is the current depiction of Bonifacio Global City in Google Map Maker and Wikimapia Beta. As I've said in the same previous post, Google Map Maker users have brought the data to 2009 when it was looking like 2007 back in February. There's still plenty of stuff to add and correct but what's there right now is quite usable already.
Wikimapia Beta's map, however, is looking like 2011, which makes it useless as a navigational aid. What you see in Wikimapia is the expected final layout of Bonifacio High Street (plenty of grids and not much circles), as envisioned by Ayala Land, as well as future buildings that are not even yet under construction. (See my post on Wikimapia Beta for more information about the website.)
Next up are the maps from MapCentral.ph and Kabeet Maps. As you can see, MapCentral.ph is still stuck in 2006. Anyway, I still consider MapCentral.ph as still having the most comprehensive freely available online map of the whole Philippines. But as evidenced by its outdated data, other online maps have leapfrogged it in quality and detail in particular areas.
Kabeet Maps, like Wikimapia Beta, is showing the future street layout which makes it also quite useless. (I would also like to note the wrong shape of C-5 Road.) Anyway, while Kabeet is the only Philippine online map I know of that is successful in getting local advertisements directly on the map (e.g., Ayala Land has all of its developments pinpointed on Kabeet maps), its cluttered site, weird navigation, use of Flash (which makes it hard to update), and no direct user facility for updating, correcting, or reporting bad data will, I think, quickly doom it to obsolescence.
There is actually one other online Metro Manila map that I know of, but since I dissed it quite thoroughly before, I won't anymore show how they depict Bonifacio Global City.