Dec 17 2008 Wed
9:42 pm PHT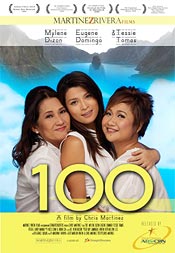 I plurked a few days ago that one thing you should definitely do before you die is to watch 100. I managed to catch it last Sunday at Robinsons Galleria and I must say that the journey to Ortigas and the 151-peso ticket is worth it. 100 is the best film I have seen this year, easily bumping The Dark Knight from the top spot. It's movies like these that give me hope for the local movie industry. Kudos to Chris Martinez, the writer and director of the film, which marks his debut.

100 chronicles the final months of Joyce, a cancer-stricken woman who was in the prime of her life. She created a list of the things she needed and wanted to do before she dies. Some of these are practical—and sometimes morbid—items, like resigning from her work, paying off all her credit card bills, and shopping for a casket; to whimsical stuff, like going to Europe to see the Mona Lisa; to serious matters that need closure, like finding her old high school lover. The list of things to do grew bigger as more and more people in her life learn about her condition, but in the end, she managed to do everything (more or less)—about 100 items in all. (I failed to keep count.)
One thing I like about the movie is how real everything feels. While dying is such a sad topic, I'd say that the movie is actually quite happy since not everyone gets the chance to set one's life right before one dies. The movie makes you think about your own life and gives you the much needed perspective when facing your day-to-day living.
The Cinema Evaluation Board has given this movie an 'A' rating and I couldn't agree more. The movie is not perfect—there were a couple of scenes that nudged my continuity alarm and the film quality in the Hong Kong scenes is a bit jarring—but those things never detract from the gripping storyline where lighthearted and funny scenes are interspersed with sad moments. The acting is topnotch (Mylene Dizon, Tessie Tomas, and Eugene Domingo are standouts), the dialogues are witty, and the cinematography is very good. The musical score could use some tweaking but overall, it's one movie I heartily recommend you watch over and over again. Heck, it made me write a blog post about it when the last movie-related post I did was back in 2007!
Fortunately, 100 is still screening as of this moment at Glorietta 4, Robinsons Padre Faura, and SM City North EDSA. But if you fail to watch it, then I guess you just have to buy the DVD. (Buy the original! Support movies like this!)