Jan 20 2014 Mon
3:03 am PHT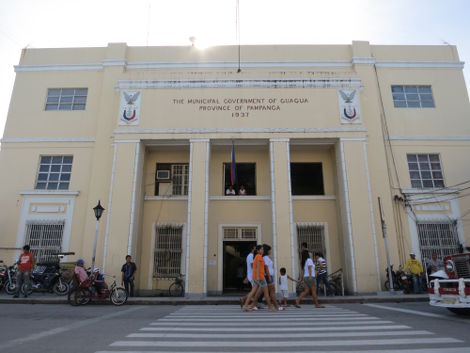 Last November 5 to 7, I and a few other volunteer mappers from the OpenStreetMap Philippines community joined the Environmental Science for Social Change (ESSC) in training the local government of Guagua, Pampanga (OSM) in contributing to and using OpenStreetMap with an eye for disaster risk reduction.
While I've done my share of OpenStreetMap-related training before, the Guagua training was the first time that I really took time off from my usual routine and went outside Metro Manila to teach people about OSM. I have to say that the experience was very fulfilling.
The Need for Disaster Risk Reduction
A day after our training in Pampanga, Typhoon Yolanda (Haiyan), possibly the strongest recorded typhoon ever to have made landfall anywhere in the world, tore a path of death and destruction through the Philippines. Yolanda is now one of the country's top two deadliest tropical cyclones after the official death toll exceeded 5,200.
According to the 2012 World Risk Report, the Philippines is ranked third out of 173 countries that is most vulnerable to natural disasters. (This is the same rank the country got in 2011, when the report was first released.) This high rank is partly due to location: the country sits on the Pacific Ring of Fire (resulting to earthquakes and volcanic eruptions) and is also right in the middle of the Northwestern Pacific Basin, which is the world's most active region for tropical cyclones.
More importantly, the Philippines' high rank is also due to a lack of resources and coping mechanisms for addressing disasters. Typhoon Yolanda is just the latest in a long line of natural disasters that concretely manifest the country's vulnerability.
It's not enough to be reactive to calamities but to also be proactive. We need to assess and reduce the risk due to natural disasters. While the Philippine Government already has a National Disaster Risk Reduction and Management Council (NDRRMC), and each province, town, and city have their own similar offices, I think disaster risk reduction (DRR) is still in its infancy in the country.
We have an inflexible building code that is not strictly enforced and may not be enough to withstand strong earthquakes and 300-kph storm winds. The Mines and Geosciences Bureau only started updating their geohazard maps for the whole country in 2011 and many local government units still don't know what to do with them. Our weather bureau PAGASA is under-equipped and understaffed and we have only begun enjoying the benefits of DOST's Project NOAH. And our citizens still don't appreciate the importance of preparing for disasters or even knowing the severity of incoming calamities as evidenced by the deaths in Mindanao due to Typhoon Pablo and the devastation in Tacloban due to the Typhoon Yolanda storm surge.
The ESSC-OSMPH Pampanga Trainings
The Guagua event I attended was actually the last in a series of 3 trainings held in Pampanga. The first was held in Candaba last October 7 to 9 while the second was held in Lubao from October 23 to 25. This series of trainings was initiated by the World Bank—East Asia Pacific (WB-EAP) and the Global Facility for Disaster Reduction and Recovery (GFDRR) with funding from AusAID.
Maps and geographical data is an intrinsic component of disaster management and WB-EAP and GFDRR has identified OpenStreetMap as a key project since it aligns with the World Bank's open data initiative. In partnership with the Department of the Interior and Local Government, the ESSC piloted a six-month project to train three municipalities in Pampanga. The training aimed to teach the LGUs on participatory mapping using OpenStreetMap to generate the base geographical data that can be used for DRR, and on using InaSAFE, a software tool that can be used to generate disaster scenarios and their impact and relief requirements using geographical data. If you want to learn more, just read the project brochure.
I was unable to join the first two trainings since I was quite busy at work. Fortunately there was some slack time in November and I took the opportunity to join Maning, Feye, and Dianne from the ESSC, and Rally and Erwin from OSMPH in going to Guagua, Pampanga. We had around 30 participants attend the training and we had a good mix of people coming from the municipal and barangay governments, including Councilor Joan Carreon.
The first day involved giving the participants an overview of the training and then introducing them to OpenStreetMap. We then had them try out the JOSM software to edit the map of their places using their personal knowledge.
The second day saw us split into five groups and going out to five areas all over Guagua to collect data through field surveying. I and Dianne were assigned to Brgy. San Nicolas 2nd in the Betis district and we were joined by Brgy. Chairman Michael Valencia and several young people from neighboring barangays. We went around San Nicolas 2nd noting down the location and names of points of interests and taking pictures of establishments. We also used GPS devices to collect tracks. Mr. Valencia also pointed to us the borders of his barangay and this was duly added later in OpenStreetMap.
After a quick side trip to see the beautiful ceiling art of the Santiago Apostol Parish (Betis) Church (deemed a National Cultural Treasure by the National Museum) our group then took a look at an ongoing public works project to divert Sapang Maragul. (During times of heavy rainfall, Sapang Maragul overflows its banks and floods the Betis district.) We then headed back to our training venue and started editing OpenStreetMap to add the data we collected earlier while us facilitators demonstrated how to make use of GPS tracks, how to geotag photos, and how to use the Field Papers in JOSM.
On the final day, we continued editing OpenStreetMap. After lunch, the participants then had a mini-workshop on creating a plan on what other geographical data needs to be collected and how to do it. After that, Maning showed various ways of downloading and using OSM data. Finally, the use of InaSAFE was demonstrated.