Jul 28 2018 Sat
11:52 pm PHT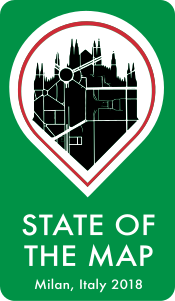 According to my OpenStreetMap user profile, I registered with the project 11 years ago today. And I could not think of a better way to celebrate this not-so-round milestone by attending the first day of State of the Map 2018 in Milan, Italy!
I have already been to several sessions so far and have learned quite a lot. I have also met new people as well as touched base with a few old friends. Tomorrow, I'll be giving a lightning talk and I actually have yet to finish and polish my presentation.
This might surprise some people who know me, but this is the first time that I am attending the international State of the Map despite having already spent more than a decade volunteering for OpenStreetMap. Well technically, I did attend two "international" State of the Map events. The first was State of the Map Philippines 2013 held at the Ateneo de Manila University where we had a few presenters from the Humanitarian OpenStreetMap Team in Indonesia as well as expats living in the Philippines and even a community leader from Japan who gave a keynote remotely. And the second was State of the Map Asia 2016 held at the University of the Philippines Diliman and which I was part of the local organizing team. But beside those two I had never before attended the State of the Map.
Truth be told, attending SotM has been a frustration of mine. In contrast with my participation in international Wikimedia conferences (three Wikimanias [2011 in Haifa, Israel; 2013 in Hong Kong; and 2014 in London, United Kingdom], two Wikimedia Conferences [2012 and 2015, both in Berlin, Germany], and a WikidataCon [2017, also in Berlin]), my SotM credentials was a bit lacking.
I actually had two opportunities to go to State of the Map before Milan. The first was in 2009 in Amsterdam and the second was in 2015 in New York City (which was actually a State of the Map US—there was no international SotM that year), where I applied or was nominated for and was granted scholarships to attend both. Unfortunately, due to very similar reasons, I wasn't able to go to both events: by the time I was awarded the scholarships, the earliest available dates to apply for visas at the Dutch and American embassies were after the respective conferences. These circumstances were actually the big reason for my frustration.
So yeah, I am really happy and excited to finally be able to attend the main international conference of the other half of my volunteer open knowledge life. And I also hope that this wouldn't be the last.