Apr 08 2006 Sat
10:02 pm PHT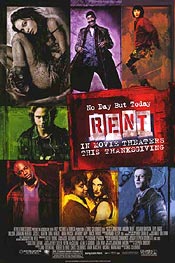 Hmmm… I never thought that my next movie will displace my best-movie-of-the-year-so-far V for Vendetta so soon. But Rent is quite a beautiful movie with a much more emotional impact on me. I've been wanting to see it ever since I saw the trailer on the Net. I wanted to watch a movie before coming to Japan (since I won't watch one in Japan—movies in Japan are damn expensive) and fortunately, Ayala Cinemas decided to screen Rent starting on March 29. Just in time!
Rent is the movie adaptation of the Broadway musical of the same name, and if I'm not mistaken, most of the cast in the movie came from the original cast from Broadway.
I have never seen the play before and I have no idea about the plot of musical. All I know is that the most popular song is "Seasons of Love" and that it had controversial themes, such as HIV/AIDS. When I saw the movie, I was blown away. I got teary-eyed in a few scenes and loved the songs. I want a copy of the soundtrack!
I leave you with a verse each from two of the songs I liked:
Will I lose my dignity
Will someone care
Will I wake tomorrow
From this nightmare

There's only us
There's only this
Forget regret
Or life is yours to miss
No other road
No other way
No day but today