Aug 12 2007 Sun
5:05 pm PHT
I didn't get to attend the The Top Ten Emerging Influential Blogs for 2007 eyeball dinner since I didn't participate in the writing project for various reasons. But I did get to make up for that by attending the next two blogger events. The first is the Pinoy.Tech.Blog 2nd Year Anniversary Beer Party (that turned into an iced tea party, might I add), and the Microtel Bloggers Dinner (mentioned by Abe here).
PTB 2nd Anniv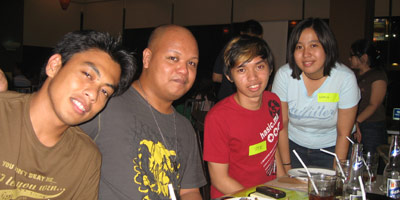 What a party! People were just coming and going. Caught Migs Paraz and his significant other. Finally met Ka Edong Soriano. Met PTB readers Steve and Justin. Then there's Eyb, Yuga's friend back in the forum days. I also got to meet this lovely couple whose names I can't recall. (Me bad.)
There were plenty of stories passed around. Yuga in particular, and because of his enviable position of being a Connector, has a lot of tidbits and industry gossip to share. I swear, with the amount of info and stories I got from that night and other after-party events in the past several months, I can probably start a tech gossip blog. Hehehe.
Microtel Dinner
I'm not a real travel or photoblogger, so I don't know why Abe invited me to attend a dinner presentation by Microtel Inns & Suites Philippines for bloggers. I was invited supposedly because of Vista Pinas, my other blog, and Lakbayan, my travel web app. But those are not really "traveling" really. Hehehe.
Anyway, Microtel, through Abe, invited a bunch of bloggers to a dinner last August 8, 2007 at the Panciteria San Jacinto in C-5 Pasig, across the SM Supercenter Pasig. Among the bloggers and photographers in attendance were Apples and Chris Haravata, Jomar Hilario, Markku Seguerra, Ferdz Decena (finally met you), Noemi Dado, Lauren Dado, Karla Redor, Gail and Marc Villanueva, Fernando Martirez, Jet Damazo, and Tim Santos. Of course, Abe was there. Despite the rains and flood it's impressive that many bloggers were able to attend. (Gail and Marc even walked to the venue from the C-5-Ortigas intersection.) I guess this dinner is reminiscent of the Globe Innove bloggers dinner organized by Jayvee Fernandez almost a year ago.
You can check out my photos of the dinner in Flickr. Anyway, the food was delicious and the Microtel staff were very friendly and seemed genuinely interested in tapping the bloggers for marketing. They gave a presentation about Microtel, which is a chain of economy/budget hotels that started in the United States and now has presence worldwide. They currently have inns in Tarlac, Baguio, Batangas, Cavite, and Boracay. They will open a branch in Davao later this year and then in Mactan, Puerto Princesa, Nueva Ecija, and Metro Manila by 2010.
Microtel prides itself in giving 5-star service at affordable rates. Among their prized achievements is being ranked highest in "Guest Satisfaction among Economy/Budget Hotel Chains" conducted by J.D Power and Associates 2002–2005 North America Hotel Guest Satisfaction Studies for six years in a row starting in 2002. So, Microtel plans to let the bloggers try out their inns (for free!) and blog about it.