Oct 18 2007 Thu
12:31 am PHT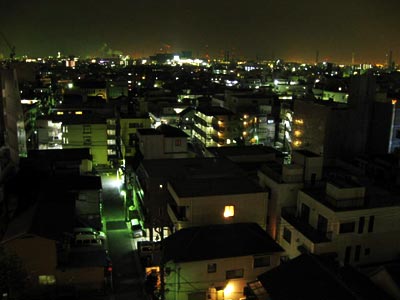 I'm a self-confessed urban guy. I've proclaimed my love for this crowded and polluted metropolis. And I generally dislike going on camping trips or places far from the civilization or deep into rural areas, especially for extended periods of time. Heck, when I want to get away from it all, I still went into the heart of the city.
I want to share that among the most peaceful experiences I've had is staying high up in a skyscraper at night—usually at the roof deck or at the balcony of a condominium unit—and just stare out for quite sometime at the city spread out before me. I greatly enjoy these moments. Just looking out at the bright city lights far below. Or observing the cars come and go. Or hearing the muted sounds of the city winding down to sleep. The normal chaos associated with the urban jungle is dimmed and toned down from way up high and that makes such moments something I cherish.
I've stayed on the roof of Prince David Condo along Katipunan during college. I've attended a house party and seen the Makati skyline from Paragon Plaza along EDSA. I've visited a friend's place and whiled my time away on his balcony at the Paseo Parkview Tower in Salcedo Village, Makati. I've also looked across the Pasay skyline during another friend's birthday party at the rooftop of Medical Plaza in Legazpi Village, also in Makati. Even in Japan, I marveled at the Kawasaki City's view from my place just nine stories up.
Every time, the nighttime cityscape never fails to make me feel peaceful. Despite any troubles that may affect me at that moment, all of that goes away as I just stare at a beautiful cityscape with the night breeze streaming gently past my face.
How I wish for that calm right now.