Aug 31 2011 Wed
2:18 am PHT
So far, the top highlight of 2011 for me was my recent trip to Israel where I attended Wikimania 2011, held in the beautiful seaside city of Haifa. Wikimania is the annual conference for Wikipedians (and Wikimedians) and it is held in different cities every year. Last year it was held in Gdansk, Poland and next year it will be in Washington, D.C. I applied for a scholarship to attend this year's Wikimania and I was fortunate to be accepted. The scholarship enabled me to go to Israel with practically all-expenses paid. The only thing I needed was pocket money and some transportation fare.
One other good thing was that Filipinos don't need visas to enter Israel. I believe this is because the Philippines was the only Asian nation to support the creation of the State of Israel back in 1947. Thus, there would be no visas to worry about (which was one thing that torpedoed my chance to visit Amsterdam for free two years ago).
However, I won't be talking about the conference or Israel for this blog post. What I want to share are my experiences during the flights to and from Israel because they were quite interesting in themselves.
Itinerary and Firsts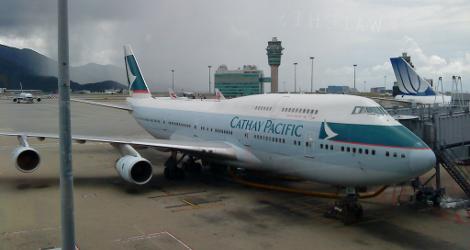 There's no direct flight between Israel and the Philippines, and there is no single airline that flies between Manila (MNL: Ninoy Aquino International Airport [NAIA]) and Tel Aviv (TLV: Ben Gurion International Airport) even with stopovers. So flying to and from Israel meant that I had to stop somewhere and change airlines along the way.
I had my flights booked via the travel agency contracted by the conference organizers. I was originally given an itinerary via Hong Kong (HKG: Hong Kong International Airport) for both the departure and arrival flights from/to Manila. But because I wasn't amenable with the departure flight schedule, I requested the friendly travel agent to book me a later flight. She got me a flight flying through Bangkok (BKK: Suvarnabhumi Airport) and I accepted it.
The complete itinerary ended up being the following:
MNL–BKK via Philippine Airlines flight PR 732 (departing at 7:30pm; arriving at 9:50pm; 3:20 flight time)

BKK–TLV via El Al Israel flight LY 082 (departing at 12:10am; arriving at 7:00am; 10:50 flight time)

TLV–HKG via El Al Israel flight LY 075 (departing at 10:00pm; arriving at 1:50pm; 10:50 flight time)

HKG–MNL via Cathay Pacific flight CX 903 (departing at 4:35pm; arriving at 6:40pm; 2:05 flight time)
The decision to fly to Bangkok instead of Hong Kong was a very fortunate one as I will explain later.
Anyway, these flights provided me with a lot of firsts. It was the first time I visited Israel and the Middle East. It was the first time I stepped foot in another Southeast Asian country (though it was only the airport at Bangkok). It was the first time for me to travel solo since my previous international travels were either with family or with co-workers, and the two other Filipino attendees to the conference took different itineraries. This was the first time for me to experience changing airlines as well. A bit surprisingly, it was also the first time for me to fly Philippine Airlines (having flown on local airlines SEAIR and Cebu Pacific before). There are many other firsts, but these are the most significant ones, I think.
Immigration problems
Unexpectedly, I had a bit of a problem with the immigration authorities at NAIA. They had a lot of questions regarding my trip and it seems that being invited to attend a conference in Israel for free was very unusual. They had me go to a special immigration booth to fill up a large embarkation form. I think they wanted to make sure that I wasn't going to Israel to work since I would need to be registered as an Overseas Filipino Worker for that. I assured them that I am already locally employed but couldn't provide proof since I left my company ID at home because I thought that I didn't need it.
Eventually, they accepted my story and allowed me to proceed after I presented to them my invitation letter and my flight e-ticket showing that I would not stay in Israel for long.
In contrast to the immigration in Manila, I had very little problem in Tel Aviv. The immigration officer there just asked me the usual questions and I just presented my invitation letter. He then stamped my passport and allowed me to pass. I found this interesting because before that, I noticed a few Filipinos get directed to a special immigration office. One of them was a Filipina who traveled to Tel Aviv to work as a caregiver. I worried that I would suffer the same fate and get interrogated regarding the purpose of my travel to Israel.
By the way, I initially got disconcerted that the officer stamped my passport giving proof that I stepped foot in Israel. Apparently, if any of the several neighboring Arab countries hostile to Israel saw an Israeli passport stamp, they will refuse to let you enter their country, some permanently. So, the usual procedure to avoid that is to request the officer to stamp a piece of paper that will be inserted into the passport and eventually discarded when you leave Israel. But since my passport itself was stamped, I just have to avoid going to those hostile countries until I renew my passport in 2014—not a challenge since I doubt that I would be visiting Arab Middle East anytime soon.
(Then again, they could simply Google my name, discover this blog post, and deduce that I've been to Israel, stamp or no stamp. But it's no big loss since the only mildly interesting city to visit among those Arab countries is Dubai, and there are plenty of other cities around the world more worthy of visit like Paris, London, and New York.)
The Most Secure Airline in the World
One thing that I didn't know before I embarked on my trip was that El Al Israel, the country's flag carrier, and the airline that I flew into and out of Tel Aviv, has the unenviable distinction of being the most secure airline in the world. Israel is certainly not the most well-loved country in the region and since flights are a favorite target of terrorists (even way before 9/11), flights by El Al are probably the most targeted by terrorists of any airline in the world.
Fortunately, there has only been one successful hijacking of an El Al Israel flight in the past six decades and that was Flight 426 back in 1968. There were several other attempts but they were foiled by Israel and its allies.
Unfortunately, this means that passengers undergo more stringent screening procedures than normal. They don't seem quite as crazy as the weird procedures employed by TSA for American flights, but they're no less inconvenient.
First of all, El Al doesn't trust baggage screening procedures by destination airports. Thus, they do their own baggage screening. During check-in (such as for my departure flight from TLV), they request you to open your check-in luggage so that they can inspect the contents for themselves. For transit luggages where the passenger is not around (such as for my arrival flight to TLV), they force open the luggages even if they're locked. I was dismayed to find out when I claimed my luggage in Tel Aviv that they had picked all the locks and even destroyed one my combination locks. The contents were also messed up.
Secondly, they personally interview each and every one of their passengers (Israelis less so, I think). El Al apparently employs expert profilers to identify suspicious passengers. Their questions also try to make sure that a passenger may not unknowingly bring on board a bomb disguised as a gift given by someone else to the passenger to be carried along the flight. (This line of questioning is probably a result of the Hindawi Affair in 1986.) I must say though that these interviewers were very polite and even explained the purposes of their questions (no doubt as another psychological trick to unnerve would-be terrorists).
Lastly, aside from the interview, the airline screens all passengers and their carry-on luggage as well. They have the passengers go through metal detectors and scan for explosive materials. They also screen the contents of the carry-on luggage.
One other inconvenience that I experienced was when I was already seated in the airplane on the flight to Tel Aviv but before take-off. An El Al staff approached me and asked about my Nokia cellphone. She said that they noticed that I had a Nokia phone charger in my checked-in luggage but that the Nokia phone was not there. I showed her that I had the phone with me and she requested that it be checked in. I was confused until I realized only then that they actually forced opened my luggage and that they would be the one to insert my phone into the bag. As a sign of good faith, I also told them about my Sony Ericsson phone that was with me and whose charger was also inside my checked-in luggage but she told me that it was only the Nokia charger that they had a problem with. I think they worry about remotely-controlled bombs using cellphones. But it all seemed completely arbitrary, especially when nobody took notice of my Nokia phone/charger on the departure flight from Tel Aviv. (But maybe because flights from Israel are less of a security risk than flights to Israel.)
All in all, these security procedures are understandable though quite inconvenient. There was actually a suggestion that you should check in four hours before flying with El Al instead of the usual three. I've also heard some similar or even worse stories from other conference attendees flying with El Al such as this Spaniard who was forced to leave his laptop in Madrid. Bummer!
One other aspect of El Al flights that I'd like to share is that their flights are longer than comparable flights to Asia with other airlines (I think). The reason? They have to avoid the airspaces of the aforementioned Arab countries.
During the flight to Tel Aviv, I predicted that the jet would just stay well clear of Iran, which is the only country that is currently openly hostile towards Israel. But I was a bit surprised to see the flight avoid every Arab country when I checked the displayed flight map. The flight from Bangkok passed over central India and then dipped south and flew over the Red Sea. The plane then took the Gulf of Aqaba fork of the Red Sea where Israel has a small coastline (sandwiched between Egypt and Jordan). You can see this on the map below.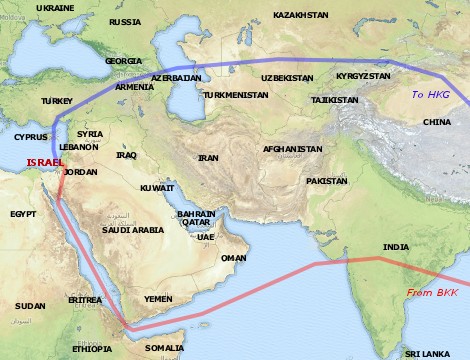 I thus learned that there is actually another practical significance to Israel's access to the Red Sea. It allows El Al flights to leave its airspace directly into the airspace over the international waters of the Red Sea. What surprised me still was that the flight still avoided Egypt even though it's the most friendly of Israel's neighbors. Heck, El Al even has regular flights to Cairo so I wonder why the plane still avoided that country especially since it would mean that the plane skirts close to Saudi Arabia.
For the return flight to Hong Kong, the flight passed via a more northernly route, over Turkey, the Caucasus region, central Asia, and then finally over China.
As I said earlier, it was fortunate that I had a stopover in Bangkok since this let me experience the two different flight paths of El Al to Asia. As a map geek, I find this geopolitical experience very fascinating.