Nov 01 2011 Tue
12:24 pm PHT
I was browsing the map section of Bestsellers in Robinsons Galleria in early October and I discovered this CD software named Philippines DigiMap (v2.0.0) produced by a company named Mannasoft Technology Corporation. Being the map geek that I am, I was initially intrigued by this product, which when installed (Windows only, I presume) supposedly lets you browse a digital map of Metro Manila and search for POIs (points of interest). Unfortunately, its 300-peso price turned me off. But the clincher was this notice printed on the back of the packaging: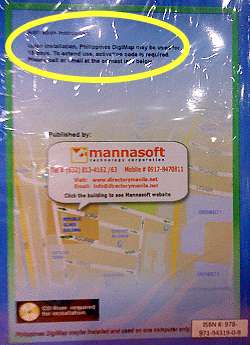 Upon installation, Philippines DigiMap may be used for 15 days. To extend use, activation code is required. Please call or email at the contact info below.
Is this for real? Is this software so good that I need to get it activated? I'm not even sure if the activation is free (and I'm too lazy to contact them to find out). Besides, in this age of Google Maps and OpenStreetMap, both of which are free, why would I pay 300 pesos to get a digital map that I likely couldn't use in a mobile setting, and can't use for real-time navigation? It's true that you need an Internet connection to browse Google Maps, but there are tons of offline solutions that are often free. I thought that Periplus' Metro Manila Atlas was a not worth its price, but Mannasoft's Philippines DigiMap takes the cake.
Mannasoft actually has a website which seems to contain the same map data: www.directorymanila.net. I browsed their online maps on that site and I was quite unimpressed. They used the KabeetMaps model of only showing a map of each city in Metro Manila one at a time instead of the continuous and seamless map that Google and OSM provides. In addition, I tried the search functionality for their Makati map and I couldn't get it to work at all. And oh, their street network is wrong in many places and outdated in others.
Well, if there's one nice thing that I can say, it's the fact that they provided floor plans of Glorietta so that you can locate interior shops. This is actually a nice and almost unique feature that they could capitalize on. Unfortunately, their Glorietta floor plan is also outdated, they even show the shops in Glorietta 1 and 2 which are long closed and gone.
Oh yeah, here's the final nail in the coffin. It seems that their GIS and cartography solution is so poor that they couldn't even make their own overview map of Metro Manila (as seen on the front cover of their packaging). I made that Metro Manila map for Wikipedia back in 2003 and I could definitely recognize the tell-tale shape and colors. See the visualization below to compare. Look especially at the outline of Makati and the northern border of Valenzuela.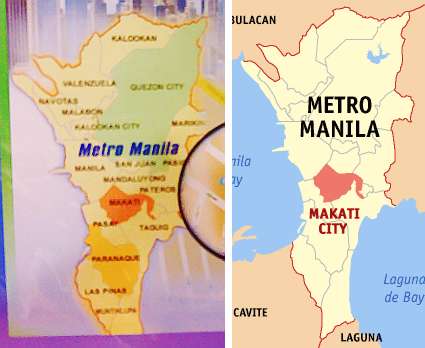 If a company had the gall to steal a map somebody else made without following the generous open license or even providing any attribution, then I think they couldn't be trusted to provide an accurate and updated map, much less entrust them with 300 pesos of your money.