Mar 30 2008 Sun
2:17 pm PHT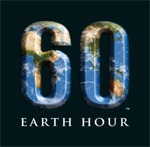 San Francisco just finished their turn at Earth Hour about two hours ago, and more than 17 hours after Metro Manila switched off its own lights. Earth Hour is a viral movement that started in Sydney, Australia last year and became an international affair in 2008 as 28 partner cities and hundreds more supporting towns and cities switch off lights and other non-essential electrical devices for one hour to raise awareness about global warming and climate change.
Raising Awareness
While simply switching off lights will not delay, much less prevent, catastrophic climate change, the aim of the movement is to raise awareness among the world's citizens about the need for discussion about long-term effects of human activities on the planet.
I don't think the aim was met very successfully in the Philippines.
The thing is, for a concept as sophisticated as "climate change" and "global warming" to be appreciate by the common people, the masa (whose main concern is how to make ends meet), there needs to be a massive and visible information campaign. Frankly, I didn't see such campaign happening.
Department of Energy Secretary Angelo Mendoza said that Manila's Earth Hour was successful. Really? As many people can probably attest, most residents didn't know about Earth Hour. I don't watch much TV but if there were commercials and public service announcements about Earth Hour, then it was done poorly. Our household help and my grandmother thought that there was going to be a brownout last night!
Earth Hour would've been successful if all the major mass media companies—ABS-CBN, GMA, the Philippine Daily Inquirer, the Manila Bulletin, and the Philippine Star—had initiated an awareness campaign, similar to what the Sydney Morning Herald did last year. The Catholic Bishops Conference of the Philippines supported Earth Hour, but they should have instructed their priests to make announcements during masses. In addition, Meralco should have directed some of their advertising money to publicize Earth Hour instead of creating puff PR pieces (they are already supporting the save-water and zero-waste campaigns; it makes sense for them to support this as well).
Cutting Down on Energy Use
While raising awareness is the main goal, switching off lights is supposed to have incidental direct benefits. For example, Sydney's Earth Hour last year is said to have reduced the city's energy consumption in that one hour by around 10%, which is equivalent to taking about 48,000 cars off the road for one hour. This year, Bangkok is said to have saved about 160 megawatts of electricity and cut down about 100 tonnes of carbon dioxide emissions.
But is that true? I only took three units of power systems back in college but I know that unless a power plant is stopped and brought off the grid, no electricity is saved and the unused capacity is simply wasted. Whether or not electricity is consumed, the generators still generate electricity. That's why the power industry aims to generate just enough power to meet the demand, using historical data to determine seasonal and daily patterns to make a schedule of when to bring power plants online and offline from the grid.
Starting up and shutting down power plants is a very expensive process, so I doubt that the power industry is willing to take one or two power plants offline for just one hour to make Earth Hour have a tangible benefit. Besides, the participation of people and businesses in Earth Hour is very unpredictable so I think the power supply during that one hour is simply maintained and just goes to waste.
(I would certainly appreciate any corrections about the technical matters I presented in this section.)

Dramatic Impact
Manila, Pasay, Makati, and Parañaque are the flagship cities in the Philippines for Earth Hour. The mayors of three of these cities and Sec. Reyes had a ceremony at the Cultural Center of the Philippines last night as they shut down most of the lights in the complex. Roxas Boulevard and the Baywalk Promenade was thrown into darkness and Ayala Avenue's lampposts turned off as many of Makati's skyscrapers grew dim as well. The SM malls and Ayala malls also participated by reducing their lights by up to 75%. (See the Inquirer.net news story).
I stayed at home and so I wasn't able to observe the dramatic impact of turning off the lights. Fortunately there are some pictures and videos online of the event. YouTube has a few videos: this one shows a Starbucks, the SM Mall of Asia, and the Baywalk turning off their lights; while this one depicts an unusually dark Makati Central Business district. This photo gallery also has some nice pictures.
I guess some clueless people thought that there was a brownout last night when they saw the lights go out. Hehehe. While the awareness was not really there, I have to admit that the images of various places covered in darkness was quite impressive.

Last Thoughts
I wrote this post to raise discussion about Manila's participation in Earth Hour. I support the aims of this movement and I simply lament the lack of preparation in the Philippines to significantly participate in this event. Metro Manila has much to share since we are one of the few developing-nation cities to be a partner city in Earth Hour. Anyway, the activities in Manila was not as bad as I had predicted, and I think that this will generate enough interest for greater participation in succeeding Earth Hours and for generating local discussion about climate change and global warming.