Jul 16 2006 Sun
4:51 pm PHT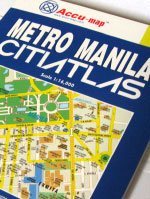 Just bought for myself the 2006 edition of Asiatype's Metro Manila Citiatlas. I got their two previous editions before but I seem to have lost them. (More likely, my father hoarded them for himself.
) This latest edition is definitely a lot better.
Aside from the expected updates to new streets and landmarks (e.g., San Lazaro Hippodrome is now replaced by SM City San Lazaro), one really nice thing about this edition is the addition of a lot more building footprints and detail. A striking example are the university and school campuses. Before, you only had a shaded region depicting the area of the campus. Now, the same area is shaded but we now have shapes for the school's buildings. You'll notice the same increase in detail level throughout the atlas.
In addition, a lot more of the areas around Metro Manila are covered. Bacoor, Cavite and Obando, Bulacan are practically navigable using the atlas. Cainta, Rizal; Meycauayan, Bulacan; and San Pedro, Laguna are also covered to a lesser degree.
Nevertheless, this edition isn't perfect. There are still some inaccuracies and outdated information. For example, the Alabang-Zapote Flyover in Las Piñas is depicted as going over the Zapote River and the diversion road, when in fact, it goes over the river and Quirino Avenue. Also, I'm pretty sure their borders for Bacoor, Imus, and Dasmariñas are wrong—Bacoor isn't adjacent to Dasmariñas in their maps. (Of course, these inaccuracies could simply be trap streets.)
If you love Metro Manila like I do, I'd heartily recommend this edition (only 330 pesos). I find the Citiatlas very, very useful, especially when I need to get around the parts of the Metro that I'm still not familiar with.