Mar 23 2009 Mon
11:54 pm PHT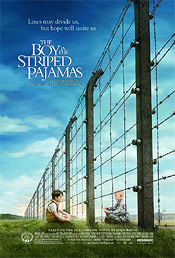 I usually check the movie schedules at ClickTheCity.com every Wednesday to find out what new movies are screening. The film that caught my attention last week was The Boy in the Striped Pajamas which was only showing at Shangri-La Plaza. I did some research and it turns out that the film is an adaptation of a novel by Irish author John Boyne. The novel and the film's premise concerns the Holocaust as seen through the eyes of an innocent 8-year old German boy named Bruno. Bruno's father was a member of the SS and was assigned to be the commandant of a Jewish concentration camp in the countryside. Having no preconceived notions about Jews, Bruno secretly befriends a Jewish boy in the camp named Schmuel.
Without giving anything away, I just have to say that the film's ending left me stunned and speechless. I guess my reaction is quite the norm as evidenced by the user comments left at the Internet Movie Database entry for the movie. The Boy in the Striped Pajamas really gave me a powerful kick in the emotional gut and if you're the type that easily cries while watching films, I have to warn you to bring lots of tissue if you intend to see this.
The film pretty much overtook all of the films I've seen so far this year and now claims the #1 spot for the movies I like most in 2009. The quality of the film making is topnotch and the actors did their roles justice, especially Asa Butterfield who played Bruno and Vera Farmiga who took the role of Bruno's mother. The cinematography and editing are quite excellent and the orchestral score done by Academy Award winner James Horner added much depth to the film. In short, this is a highly recommended movie! The ticket cost me 175 pesos (and it's possibly the most expensive movie ticket I've ever bought) but it's very much worth every centavo. By the time you read this, I guess it would be too late for you to catch it at Shangri-La, in which case, do try to see it on video. You won't regret it.
War is brutal and the Holocaust is as brutal as you can get. But Bruno and Schmuel reminds us that our humanity lies not in our differences but in the way we see each other as brothers, sisters, and friends.
Update (March 25): The film is still showing at Shangri-La for at least this week (I think). However it's at The Premiere Theatre so the ticket prices are probably higher.