Nov 03 2007 Sat
6:14 pm PHT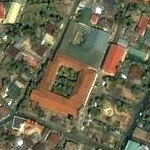 Shown to the right is a satellite image of the historic Barasoain Church. Unexpectedly, this is from Microsoft's Live Maps. Yahoo! Maps also has the same satellite image but with a different kind of image post-processing. Google Maps, on the other hand, doesn't have any high-resolution satellite imagery of this place of worship. In fact, their imagery of the spot is quite a tease, just being 500 meters short of the nearest hi-res area—and that hi-res area is actually one of the very first places in the Philippines to have hi-res satellite images in Google Maps. Update (September 6, 2008): Google now has satellite imagery of the Barasoain Church.
I mentioned four months ago that Yahoo! Maps has hi-res satellite imagery of the Greater Manila Area and Metro Davao. What I haven't mentioned until now, is that Microsoft's Live Maps has played catch-up by adding the very same hi-resolution mosaic image for the Greater Manila Area that Yahoo! has in their Live Maps website. Both Yahoo! and Microsoft get much of their international high-resolution data from GeoEye, a competitor to DigitalGlobe, which supplies images to Google.
If you're interested, I created a KML file showing the extent of the high-resolution imagery found in the mapping apps of Yahoo! and MSN Live. This file can be viewed using Google Earth, NASA World Wind, and other apps. But if you don't have any of these programs, you can actually view the KML file in Google Maps since Google Maps can load KML files. Enjoy!