Jan 29 2009 Thu
11:38 pm PHT
I've always made it a point to watch at least one Metro Manila Film Festival movie each year and hopefully to blog about it. (For example, here's my post on Aishite Imasu, which happens to be the most-viewed movie post in my blog.) Well, I did watch Kasal, Kasali, Kasalo and the sequel Sakal, Sakali, Saklolo during the past two years, but neglected to write my reaction of them. So, I'm rectifying that this year by giving my thoughts of the three movies I saw in the recent 34th MMFF. Of the eight films in the festival, I watched Ang Tanging Ina Ninyong Lahat with my family on Christmas Day, saw the animated Dayo Sa Mundo ng Elementalia last January 3, and caught Baler three Sundays ago.
Tanging Ina
My family agreed to watch this, er, family film because we all loved the first movie, Ang Tanging Ina. Well, after seeing the sequel, I found myself liking the first movie much, much better. I thought that Tanging Ina 2 was funny and entertaining as well, but I simply cannot get over the absurdity of Mrs. Ina Montecillo clinching the Philippine Presidency. It's way too over the top and I would say a form of "nuking the fridge". I would dare say that having the mother win a mayoralship or maybe even a provincial governorship (a la Panlilio) would've been more realistic and just as effective (given some plot tweaking).
Anyway, I thought that Ms. Gloria Diaz as the previous President was very nice decision. She was presidentiable, and I'm hard-pressed to think of a male actor that would've been as successful in portraying that role.
Dayo
Among the MMFF entries, Dayo is certainly the local bloggers' darling, with several bloggers having been invited to tour the animation studios back in October and getting an advanced screening last December 19. Well, Dayo is a very commendable film. But compared with 2-D animated Disney classics like Beauty and the Beast and The Lion King, Dayo is definitely inferior both in terms of animation polish and storytelling. Then again, considering that this is an all-Filipino production without the tremendous budget of an international studio, I think Dayo is quite good and deserves the awards it got (like all of the aural awards: Best Sound, Best Score, and Best Song).
The biggest detractor in the movie were the blatant product placements, and there were plenty! Among the ones I remember are a hotdog brand, a donut shop, some unheard of sweet snacks, an airline, and a shopping mall. These are all understandable but I wish there was some better way to make these more tasteful. After all, product placements in an animated film is extremely distracting. I guess it's a relief that there were no advertising in the world of Elementalia itself. Hehehe. (Still, nothing beats Captain Barbell in the advertising Hall of Shame: what you see in the movie is not product placement, but rather an unannounced commercial!) (Oh yeah, Tanging Ina 2 also had a blatant product placement for a cheese product near the end of the movie.)
Baler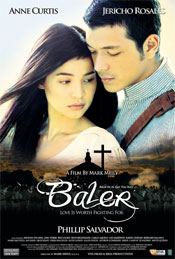 Baler reaped major awards including the plum Best Picture award so this was definitely one of the movies I didn't want to miss. To put the movie in simple terms, think of it as similar to Titanic and Pearl Harbor—a love story set against the backdrop of a historical event. In Baler's case, the event is the Siege of Baler, where some 50 Spanish soldiers were besieged in a church by revolutionary Filipinos for almost a year from 1898 to 1899. They were the last to know that Spain had surrendered to the United States, and in fact, their siege lasted well into the subsequent Philippine-American War.
I didn't do any historical research about the movie's historical setting so I found the film quite educational. Post-screening research on the Internet revealed that the movie pretty much nailed most of the salient points of the siege correct, though I think that Rosales' and Curtis' characters are purely fictional despite the written narrative that is shown at the end of the film. Anyway, this article by Carmen Guerrero Nakpil is an extremely enlightening read if you've seen the film.
One negative thing that I observed is that the casting could've been much better. I can forgive Jericho Rosales' playing a Spanish-Filipino soldier since it possible that his character inherited his mother's Pinoy traits, but most of the actors that portrayed the besieged Spanish troops didn't look at all that Spanish to me. In addition, many people noticed, as I have, that the Spanish soldiers are supposed to be dying of hunger and disease but the technical execution was lacking: the actors look well-fed, if a little bedraggled-looking courtesy of the makeup department. I can actually forgive that because it's hard to make healthy actors look like they have hollow cheeks without resorting to some CGI.
One thing that puzzles me is the fact that many movie critics found the editing of the film to be sub-par. (For example, this ClickTheCity.com review.) I honestly didn't notice any egregious editing at all. I guess I was able to overlook many of the flaws and appreciate the history, cinematography, and plot of this very good movie.