Aug 27 2007 Mon
11:33 pm PHT
The second part of the Taste Asia Foodfest (read about the first part), sponsored by SM Hypermarket last Thursday was fun! And like before, people went gaga over the Cliquebooth and dined on the sumptuous food. (I liked the food more this time.) I even got to play around with Gail's pet dog, Sheero.

Here's a mugshot mural of the bloggers (human or dog) spotted at the event.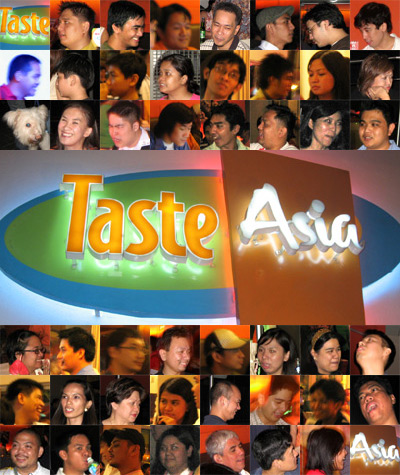 From left to right and top to bottom: Ade, Ederic, Arbet, Chris, AJ, Rico, Mike A., Anton, Alan Jr., Darwin, Gail, Jhay, Benj, Riz, Noemi, Sheero, Aileen, Ganns, Josh, Billycoy, Ely, Sharmskee, Mikey, Apples, Dax, Joey, Jonas, Jeff, Sorsi, Shari, Noel, L.A., Sasha, Dine, Joni, Marc M., Marcelle, Karlo, Karl, Juned, Jomar, Jayvee, Tess, Butch, Marc V., and Lauren.
No mugshots, but seen at the party: Mae, Geri, Liz, Robby, Mimi, Jun. And, here's my Flickr set of the event containing more pictures!