Jul 17 2013 Wed
7:02 am PHT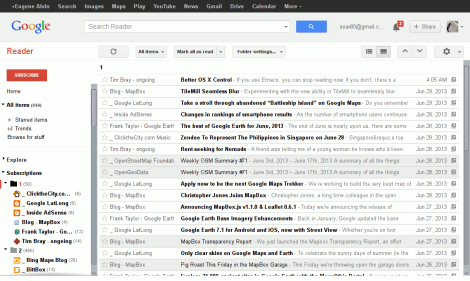 Like many other people, I was very dismayed to learn that Google was discontinuing Google Reader. I had hoped that Google would not push through with their plan, but given Google's history and resolve (I think the decision to shut down Reader was not taken lightly and was likely debated internally at length by Google management) I eventually accepted Google Reader's fate.
Since Google gave a 3-month window (until July 1) for users to migrate to another service, I decided to wait until near the end of June before switching. I wanted to see which among the many competing services would rise to the top and in my view, Feedly was the obvious winner. Feedly capitalized on Google's decision by quickly adding new features to make the transition painless for Google Reader users. And given that many Google Reader users switched to Feedly, the danger is hopefully less that Feedly would suffer Google Reader's fate.
So I took the plunge and migrated to Feedly in the last week of June. I found the transition to be as smooth as advertised and all of my subscribed feeds, including their categories and tagged posts, were imported. And by configuring Feedly to the Titles Only view mode—I have not found any use for Feedly's other views—the functionality was quite similar to Google Reader.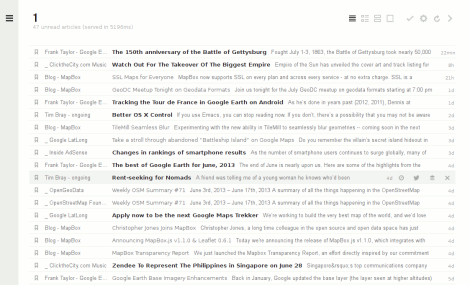 That said, I quickly hit a limitation in Feedly, a limitation so bad that I can't quite recommend Feedly as an adequate replacement for Google Reader. Basically, it appears that Feedly can only present a month's worth of posts from your subscribed feeds. This is in stark contrast with Google Reader where you can go back (and search!) through many years' worth of feed posts as long as somebody has subscribed to that feed early on. I'm not the only one who noticed this limitation (example) and this issue apparently has been ongoing since last year, way before Google decided to ditch Reader. What's disturbing is that I can't find any response from the people at Feedly addressing this issue despite the many postings from disappointed users on various forums and feedback sites.
It may be that Feedly does not have the resources that Google has in storing years' worth of posts on their servers. I also doubt that the other competing services have better resources. And this is exactly why I was dismayed by Google's decision. While it may be true that because Google Reader completely dominated the feed reader space, that there is stagnation in the "market", and that Google Reader exiting will spur innovation, Google Reader had value due to network effects and Google's enormous resources.
For instance, there are times when a post is deleted from a blog for various reasons, yet there would be a copy in Google Reader because Google managed to access the feed before the post was deleted. I personally find this valuable. Now it's all gone together with Google Reader. This also applies to blogs that have been deleted: Google Reader would still have a copy of feed posts from that deleted blog.
For now, I'm still using Feedly as my feed reader and it does help me keep up with the sites I have subscribed to. But the situation is not as ideal as Google Reader still being in service.